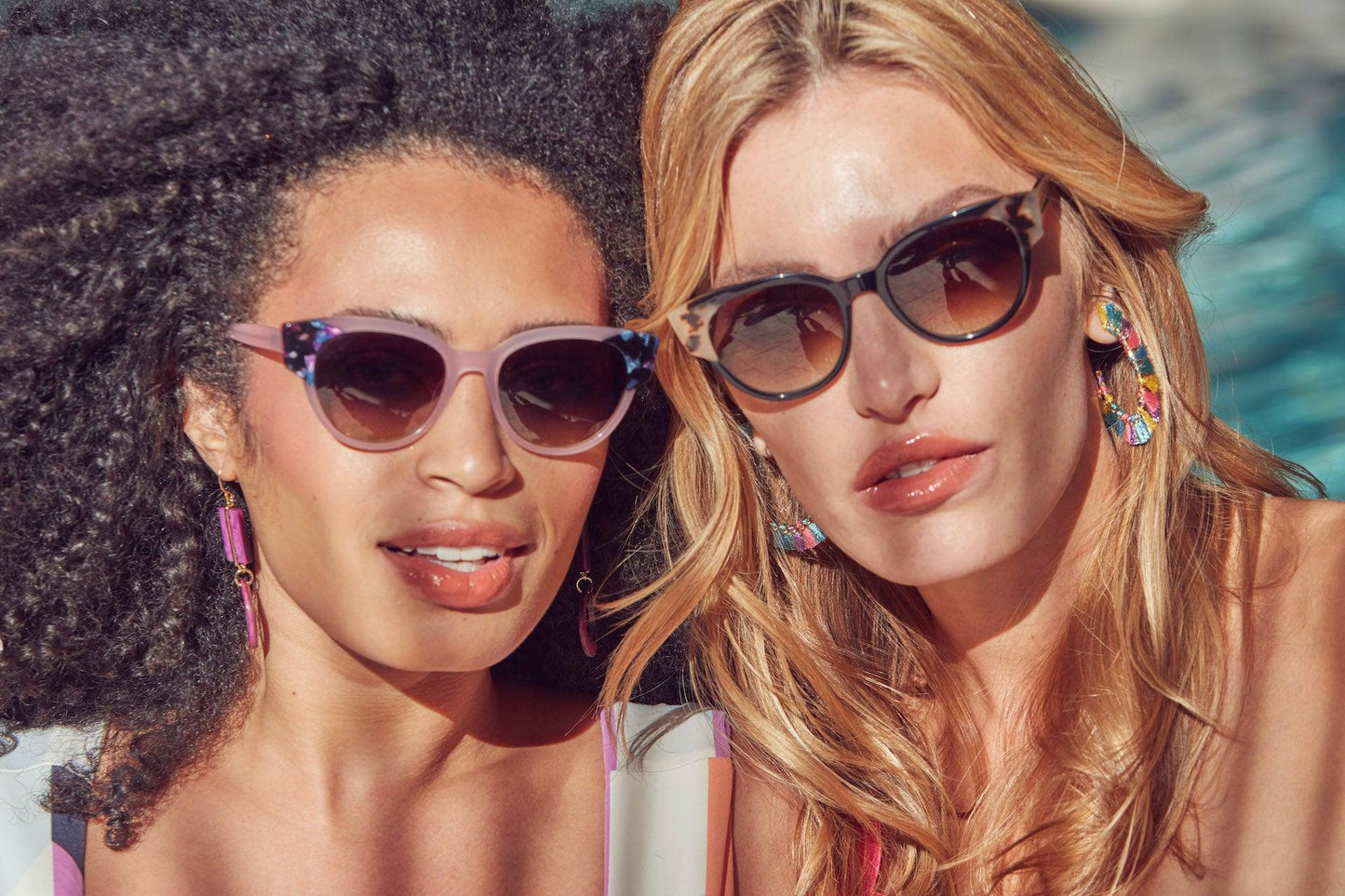 The Differences Between Polarized and Tinted Lenses
When shopping for sunglasses for women or men, you may have to choose between polarized and tinted lenses. Both options offer different benefits and are suited for different situations. At Vint & York, we offer both types of lenses on all of our sunglasses so that you can choose the lenses that suit your needs and style. In this post, we will discuss the differences between the two so that you can make a confident decision when picking out your new stylish sunglasses.
Polarized Lenses
Polarized lenses can reduce eye strain and improve visual clarity by reducing glare from reflective surfaces such as snow, water, and glass. They achieve this by using a special filter that blocks horizontal light waves, which are responsible for creating glare.
These lenses are a popular choice for outdoor activities such as fishing, boating, and skiing because they improve your vision and make it easier to see potential hazards in bright or hazy conditions. Polarized lenses also do not distort colors the way that tinted lenses sometimes do. 
Vint & York Polarized Sunglasses 
When you order any sunglasses for women or men from Vint & York, you have the option to add polarized lenses. Polarized lenses do add an extra charge to your order. We offer polarized lenses in high-index or progressive materials and can add them onto any frames. Polarizations can be added as an option to progressive, bifocal, and single-vision prescription sunglass lenses.
Here are some of our more popular sunglasses styles that you can add polarized lenses to:
Fiji is one of our luxury frames handmade in Italy with the finest materials. They are an aviator square style and come in Dark Gunmetal and Gold. These thin frames feature brown lenses and tortoise shell accents and would pair great with any outfit. If you want to make the Fiji pair even better, add polarized lenses before adding them to your bag.
If you want stylish cat eye sunglasses, check out our Myrtle frames. You can get these bold pointed frames in black, icy pink, or teal on peach. These frames are not only stylish — they are durable and comfortable as well. Pair them with polarized lenses, and you have your new favorite pair of sunglasses!
Our Grandoise frames are an oversized round style. They are handmade in Italy with premium Italian materials. If you want a daring pair of round sunglasses with a geometric shape, these are the frames for you.
Tinted Lenses
Tinted lenses are designed to reduce the amount of light that enters your eyes by blocking some of the visible light spectrum. They come in a variety of colors, each creating a different effect and coming with their own benefits. Brown lenses can enhance contrast, while gray lenses are a good choice for bright sunny days because they help reduce glare.
You can also get glasses with a colorful tint, such as blue, green, yellow, or red. Tinted lenses are a good option if you want protection from UV rays and want to reduce eye fatigue but also want to wear your prescription lenses indoors. You can also use tinted lenses to add a pop of color to your outfit.
Vint & York Tinted Sunglasses
We have many sunglasses with tinted lenses for you to choose from. Many of our lenses are tinted with brown or grey, but if you are interested in more colorful tints, then try out these glasses:
ON THE UP AND UP
These keyhole bridge round sunglasses come with blue-tinted lenses when you select the matte whiskey tortoise/blue mirror option. Blue tint can improve your perception of color and can also have a calming and relaxing effect on the eyes.
THE FAIRBANKS
The Fairbanks is one of our aviator pairs of sunglasses that come in four different colors: burgundy red, teal blue, brown, and black. All of these colors look great on these thin wire frames. Pink and red tints can help your eyes adjust to contrast, reduce glare, and improve depth perception. 
JITTERBUG
If you are interested in round sunglasses with a green tint, then check out our Jitterbug frames in honey tortoise. Green tints are good for almost any weather condition, sunny or overcast. They can help reduce visual fatigue and maintain color accuracy better than many other tints. Try out a green tint in these vintage frames.
Purchase Polarized or Tinted Sunglasses for Women From Vint & York
Both polarized and tinted lenses can help reduce eye strain and protect your eyes from the UV rays of the sun. Polarized and tinted lenses come with their own benefits and are better for different uses.
Consider your daily activities and what you want most out of a pair of sunglasses. This will help you decide on the lens type that is right for you. Vint & York has stylish sunglasses for women and men that can accommodate either lens type, so you are sure to turn heads no matter what you choose.