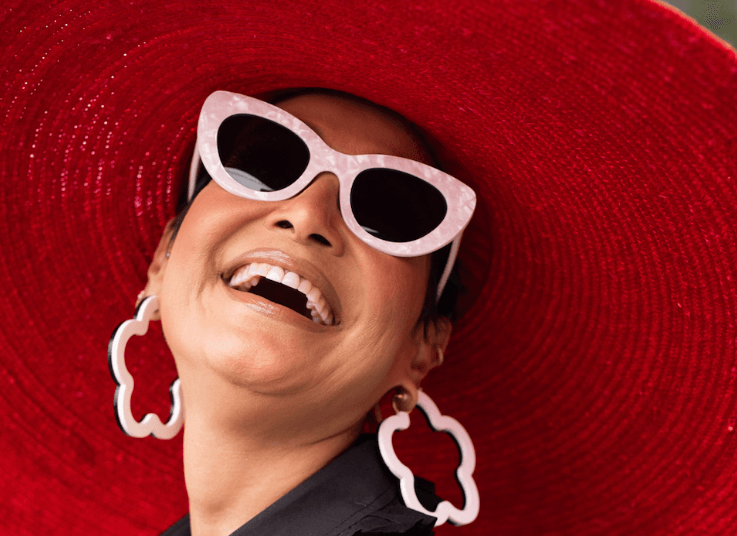 5 Sunglasses Trends We're Loving
At Vint & York, we keep up with current style trends in eyewear. With sunny days ahead, we have our eyes on trending sunglasses for women in various styles from vintage-inspired frames to modern designs. Here are a few of the sunglass trends we're loving this season:
1. Round Sunglasses
One trend we've been seeing this season is round sunglasses and optical lenses. We love this trend because round sunglasses fit many face shapes. The rounded lenses can soften the sharp lines of square-shaped faces and complement the features of oval and round-shaped faces.
Round sunglasses can give wearers a bohemian look that's straight from the 1960s. Some of Vint & York's round-lens sunglasses have thicker hexagon-shaped frames, like our Grandiose shades. You can also find the classic round lenses with matching round frames, as seen in our Poster Child sunglasses.
2. Cat Eye Sunglasses  
Another popular style from the past we've been seeing around this season is the cat eye sunglass frame. Cat eye frames were first introduced in the 1930s. While the style has moved in and out of popularity since then, cat eye frames have become more popular as designers and stylists look to the past for fashion inspiration. Cat eye sunglasses are a great option for women with all face shapes, and they provide a simple way to add a feminine touch to your style. Try our Bombshell cat eye sunglasses for a stylish mix of the past and present.
3. Aviator Sunglasses
Aviator style sunglasses were originally created for United States military members in the 1930s and have remained a classic style choice ever since. Aviators are versatile and can be stylish sunglasses for women or men. You can try a classic aviator style like The Fairbanks or mix it up with geometric, square-bottom frames like the Ace. We have many aviator options, including thicker acetate frames, classic metal frames, and different-colored UV protective lenses.
4. Hexagon Sunglasses
Hexagon sunglasses, like our Ellis frames, have become increasingly popular over the past few years. Both the lenses and acetate frames of our Ellis sunglasses are hexagonal. This geometric shape fits any face shape and can bring a funky edge to your style. Another of our hexagon styles, Chappie, adds a hexagonal shape to a pair of classic aviator sunglasses. Use our online sunglass try-on feature to see which bold and trendy hexagon sunglasses match your style the best.
5. Oval Sunglasses
We are seeing several trends coming back from the 90s, and oval sunglasses are one of them. Oval sunglasses, like our Flapper and Chassis frames, are a stylish choice for women who want a sleek look. We carry both thin and oversized oval sunglasses, so you can find a pair that matches your unique style. Oval-framed sunglasses are complementary to individuals who have wide or high cheekbones.
Find More Sunglasses for Women at Vint & York
At Vint & York, we offer a variety of sunglasses for women and men. We provide a range of modern, trending frames while staying true to classic eyewear styles that carry a nostalgic feeling. We have a wide selection of lenses like polarized, UV protective, and more for you to choose from and customize any pair of sunglasses. Explore our eyewear collection online or in our flagship store to find your next pair of sunglasses today.